Art, no matter what form, can have a strong effect on the human brain. The cultural and intellectual benefits of art can have a powerful effect on your personal journey to fulfillment. It can take you to faraway places or evoke distant memories, conjuring up strong emotions and deep thoughts. While everyone's reaction to art differs, its ability to impact us is certain.
You don't have to be an artist to reap the benefits of artwork (that's a different topic altogether). Viewing and analyzing art stimulates the brain in substantial and long-lasting ways. While a painting of a person or a tree is not actually a person or a tree, the brain is able to immediately recognize the paint, the lines, the shapes, and the shading as a representative of a human being or a tree. Why, you might ask? The brain is remarkably capable of discerning the familiarity and meaning in patterns, constantly working to make sense of the visual information it receives. No matter the subject, looking at art stimulates the brain and organizes patterns to make sense of the shapes and colors, thereby putting the pieces of the puzzle together.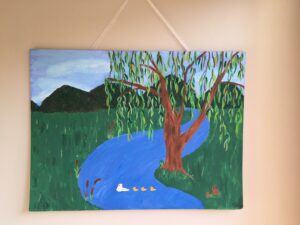 The brain actually changes a bit each time you look at an art piece. Blood flow to the brain increases by as much as 10% – the equivalent of looking at someone you love. When a person views art they consider to be beautiful, it triggers an immediate release of dopamine into the brain – a chemical related to feelings of love, pleasure, and desire.
According to WestParkGallery.com, simply viewing art leads to increased rates of good health, satisfaction with one's life, and lower rates of anxiety and depression in both men and women.
Having a piece of art that "speaks" to you enables you to have that connection to something that elicits joy, a memory,or simply something pleasant for your eyes to see.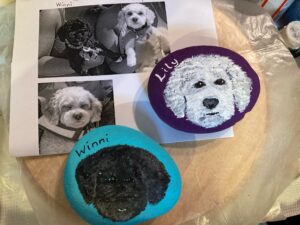 Let me create a customized work of art for you or someone to whom you want to send something special. Send an art message to someone far away as a reminder that you're thinking about them.
For more information, visit colorfulcreationsbycheryl.com.  Can I turn something into beautiful yard art for you?  Can I paint a customized rock as a memorial for a loved one (a person or a pet)? Do you want a unique gift but don't know exactly what to get? Reach out to me and let's come up with some great ideas together.